My VMware Explore 2023 Barcelona Schedule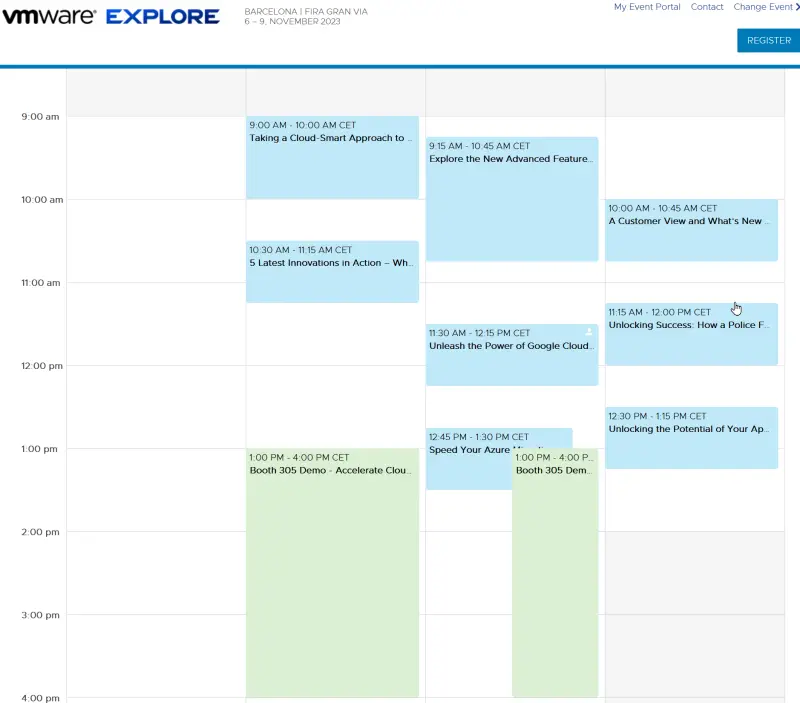 A lot of posts recently about VMware Explore 2023 :D Anyway. I just wanted to schedule a list of my sessions planned this year. As you see below, I have few session from competitors, to learn what they are doing in VMware as a Service space. One or two sessions about AI, migrations and operations.
In my session schedule I entered as well my Google Cloud Booth 305 schedule. Amongst the others I will be present there with specialists from EMEA GCVE teams and other colleagues who are supporting customers on a daily basis and are working closely with the product team. Feel free to drop by, say hi and get some swag from Google Cloud :D
See you there!
| Date | Time | Session |
| --- | --- | --- |
| Tuesdayday,7th Nov | 9:00 AM - 10:00 AM CET | Taking a Cloud-Smart Approach to Harness the Power of Generative AI [GEN2154BCN] |
| Tuesdayday,7th Nov | 10:30 AM - 11:15 AM CET | 5 Latest Innovations in Action – What's New in VMware Cloud on AWS [CEIB1618BCN] |
| Tuesdayday,7th Nov | 13:00 PM - 16:00 PM CET | Google Cloud Booth 305 Demo - Accelerate Cloud Adoption with Google Cloud VMware Engine |
| Wednesday,8th Nov | 10:00 AM - 11:30 AM CET | Explore the New Advanced Features in VMware Cloud on AWS [ELW-HOL-2484-01-HBD] |
| Wednesday,8th Nov | 11:30 AM - 12:15 PM CET | Unleash the Power of Google Cloud Services with Google Cloud VMware Engine [CEIB2411BCNS] |
| Wednesday,8th Nov | 12:45 PM - 1:30 PM CET | Speed Your Azure Migration with the Latest Azure VMware Solution Features [CEIB2033BCN] |
| Wednesday,7th Nov | 13:00 PM - 16:00 PM CET | Google Cloud Booth 305 Demo - Unlock the Power of generative AI with Google Cloud |
| Thursday,9th Nov | 10:00 AM - 10:45 AM CET | A Customer View and What's New with VMware Aria Operations for Networks [MAPB2298BCN] |
| Thursday,9th Nov | 11:15 AM - 12:00 PM CET | Unlocking Success: How a Police Force Mastered a Seamless Live DC Migration [CXSB1936BCN] |
| Thursday,9th Nov | 12:30 PM - 1:15 PM CET | Unlocking the Potential of Your Application Workloads with VMware Cloud [CEIB1773BCN] |
If you are like me and you find VMware Explore website very hard to navigate I provided a direct link to VMware Explore Scheduler, so you no longer have to look for it :) VMware Explore 2023 Personal Schedule Link